The Nintendo NX Will Talk To The Apple Watch, And Play 3DS Cartridges.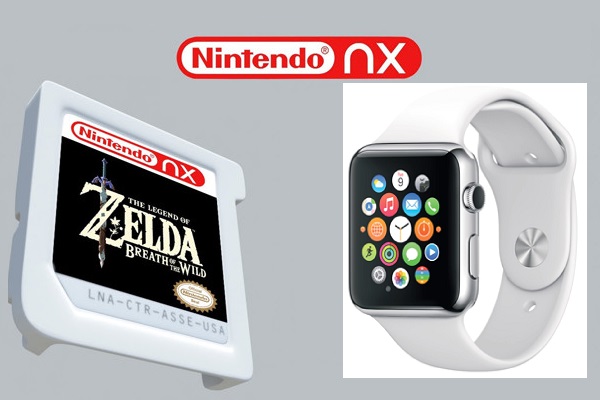 After the recent iPhone 7 launch by Apple (AAPL) with Shigeru Miyamoto showing up on stage, I got to thinking: What if Nintendo (NTDOY) and Apple are collaborating on other products? Apple tried once before with a machine called the "Pippin", but it wasn't equipped to please hard-core gamers. The system had a slow CPU and lame controllers. It sold for way more than it should have, and had nothing noteworthy to play on it.
But what if they got Nintendo to do all the hardest work on the system design for them, only asking that it incorporate some of the ideas that Apple is not quite finding as much demand for. Well, in this latest filing for the "MADE FOR APPLE WATCH" trademark, some compatible products are mentioned that sound virtually the same as the description of a portable video game system: Toys; games and playthings; electronic hand-held game units; musical toys, games and playthings; toy audio apparatus; toy musical instruments; musical games; battery operated toys; electronic toys; electric computer games, other than those adapted for use with television receivers; electrical and electronic amusement apparatus (automatic, coin/counter freed); toy handheld electronic devices; gymnastic and sporting articles; body-building apparatus; body rehabilitation apparatus; body-training apparatus; stationary exercise bicycles; parts and fittings for all the aforesaid goods.
It's going to be compatible with 3DS games as well. 
Otherwise it wouldn't make sense for Nintendo to have just released a brand new 3DS "Galaxy" model selling for $200, if they intended to cannibalize their own sales with NX. Some other patents have been seen coming from the Nintendo camp that indicate that the upcoming "NX" console system was meant to communicate to a watch. Some thought that meant the NX might be a wearable device, but the appearance of Shigeru Miyamoto gives me the belief that Apple is interested in getting involved in Nintendo's games business. We already know that Nintendo is interested in getting into Apple's distribution business. Moreover, Nintendo has been working on a set of exercise based controllers, as part of their "Quality of Life" program. 
It remains to be seen how all of these devices will interact with each other, but with the system also having support for cartridges, I think we are going to have the most capable portable device on the planet. A collaboration like this also opens up the possibility of Nintendo selling iphone games through it's own version of the Apple store.