AMD, NVidia: One Shall Stand, One Shall Fall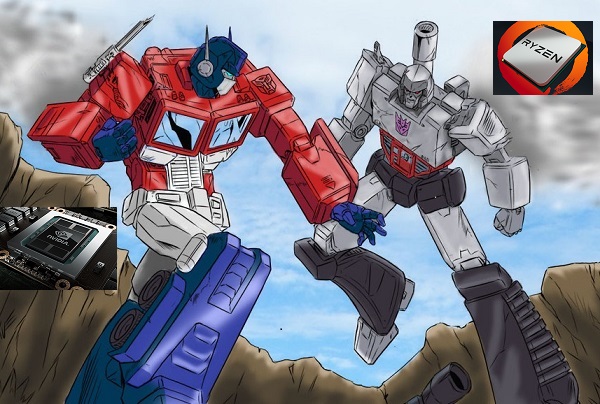 Technology is transforming.
That's literally what it is always doing. Think of any good idea ever in tech that has been able to stand as it is, and not be copied in some way. You have to keep moving, keep innovating, always.
We have a problem here, but it appears not everyone is viewing it that way. Advanced Micro Devices (AMD) and Nvidia (NVDA) are having great years so far, but don't go celebrating your victory just yet. 
AMD is, of course, riding high on the reception of their latest CPU chipset, called "Ryzen", which in test rigs is showing great price/performance ratios against some of the top chips at Intel (INTC). Nvidia is getting a push from the latest 3d integrated graphics that will be shipped with Nintendo's (NTDOY) upcoming "Switch" console. The chip is an offshoot of it's popular "Tegra" line, making ports between PC and console seamless. Switch Demo units will be hitting the U.S. in January, with a full launch in March. 
But for chipmakers, you can't just have one product carry you for long, and margins are slim. Just because a lot of units sell, doesn't mean there will be a lot of profit from them. The only thing that you can be really sure of is that there was a lot of money spent on developing those products. AMD will likely leverage their recent run-up to try to knock out some of the debt on it's balance sheet, so expect both weak earnings results, and low EPS, if any, in their upcoming quarter. Bear in mind, AMD has virtually always been second place in the CPU wars, and it is only a short matter of time before Intel prices them back out of the hobbyist market.
Nvidia on the other hand, even being a market leader has a lot of competition to deal with. 
AMD has actually shown themselves to be a fairly strong competitor against Nvidia in 3d chipset sales in the past. Nvidia has a great lead against them right now, but don't get complacent, zeros and ones are easy to copy, and chip fabs are shrinking every day too. Smart investors will tell you to let your winners run, but we are looking at forward P/E's that are quadruple the peers in the tech sector. It'd be a smart move to take some of your winnings and spread it around.