E3 Roundup: Nintendo Wins This Year, But Exciting Things Are Coming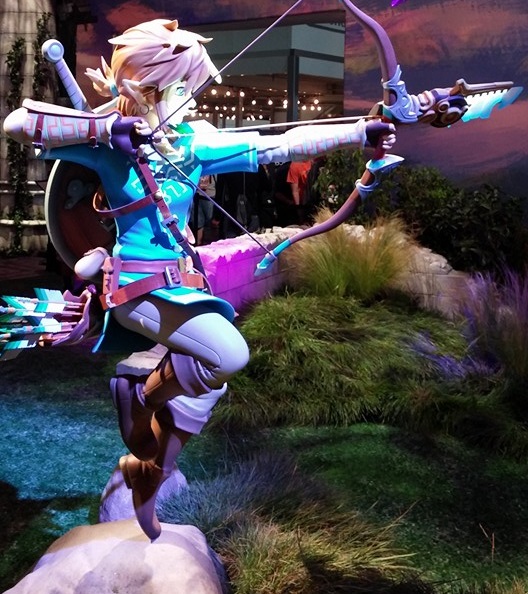 It's good to be back home. I think next year I'll take a laptop with me so that I can give somewhat more timely updates, but here is some commentary about this year's E3. 
For starters, Nintendo (NTDOY) had a rarely-felt presence at this year's show with "The Legend of Zelda: Breath of the Wind". They had a massive room dedicated only to that game, and the crowd it drew was so huge that they ran out of tickets to let people in to play. In other words, the wait in line exceeded 3 full days. Fortunately, they did have a separate line for people who just wanted to view, and that's where I was able to get in and see the game in action. 
The new Zelda is familiar, but darker, and more serious than previous games, and there is much more of a focus on just how alone you are in the world. The emphasis is on survival instead of just fantasy, and I really liked what they've done with the game here. For a WiiU title, the graphics are very lush, so I'm very interested to see what they can do with the NX capabilities.
Sony (SNE) was heavily focused on promoting their new VR headset. Nearly every game they were demonstrating this year had some kind of option to use it. Of the VR headsets coming to market, I have to say that theirs is currently the most usable, due to a problem known as the "Screen door effect" that exists in other headsets like the Occulus Rift, which is now owned by Facebook (FB). The Playstation VR headset does not suffer from this problem. So while resolution isn't as high in Sony's headset, the clarity of the image makes it better. I think there is some real potential here.
Microsoft (MSFT) is, as I accurately predicted here, is unifying console and PC compatibility, making it so that you can play your games on both platforms with a single purchase if you own Windows X. I'm not sure how this change will impact the industry just yet, because there's been a divide between console exclusivity and PC users for a while. There are benefits to each one, and I assume it's only a matter of the startup costs that have kept everyone from gaming on PC. Perhaps this way all of that extra horsepower that PC users posses will no longer be wasted. 
We are finally embracing the new generation of hardware.
There was a notable jump in content quality on both the PS4 and Xbox One. We are finally moving away from "HD" versions of previous console generations, and into games that really exploit what this generation's hardware is capable of delivering. I'll have more to say about some of the individual game publishers at the show in the near future. Stay tuned.