Virtua Fighter 6 Is Coming Soon
GET HYPE.
I was looking for various new trademarks when I had the thought to see if Sega (SGAMY) was up to anything new, and I happened to notice that the trademark for Virtua Fighter has been renewed as of July 4th of this year. The reason it hadn't been noticed sooner is that there is a delay before these pages get updated. When Shenmue III was about to be announced, we saw something very similar with the U.S. trademark, even though it had been previously renewed at Japanese sites. 
Questions I have encountered related to this registration were about things like Pachinko, or the possibility of the game simply appearing in compilations or other games. Pachinko, for starters, is not even an American thing, so there would be no need to register it that way. As far as compilations or inclusions into other games, that was also not necessary in the U.S. Dead or Alive 5 contains Virtua Fighter characters Akira, Pai, Jacky, and Sarah but there was no need to register just for that either.
The logical conclusion is that Virtua Fighter 6 is about to be announced.
Proof can be found here: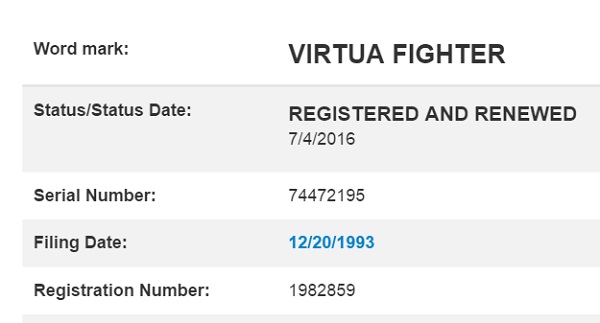 I'm going to go out on a limb here and say that I expect full Sony (SNE) Playstation VR support. It will probably have a mode that lets you fight in the first person.
The Tokyo Game Show is scheduled to begin on September 15th. That's probably where it will be officially announced, unless Sega gets tired of me and their fans asking them about it.