I complained. Robinhood Gold was listening.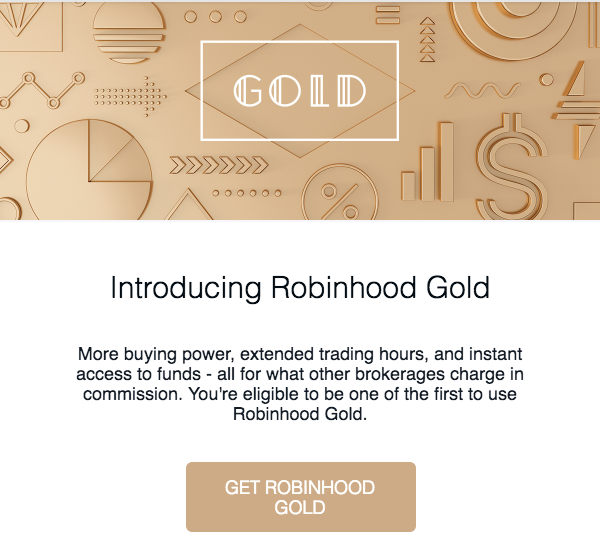 Trying not to bite the hand that feeds me here. Be nice in the comments section.
I'm somewhat of a dual mind blogging about this subject, because technically, I am doing work for a brokerage here. As you may already know, Whotrades has a business association with a company called Just2Trade, a low cost, but fully serviced stock brokerage house. And moreover, the company I'm discussing here is not publicly traded. Yet. However, it is important to be abreast of as many companies as possible when you are an investor, so that you are aware of the constant threat of competition. Companies that can innovate stay ahead of the game.
For a lot of years I did all of my stock trading on Capital One's (COF) Sharebuilder platform, now called "Capital One Investing". Part of that reason had a lot to do with the fact that they gave out tons of free trades. The sell fees of course would bite you in the butt later on, but businesses need to make money. I get that, I really do. Which brings us to the point of this post. 
You might remember that some time back, I made some complaints about the Robinhood App.  I said that they were missing some basic features that a brokerage really needs to have. Well, they literally introduced an upgraded version of the service called Robinhood Instant something like a week after that, which addressed several of the exact issues I mentioned. Today, I found out that they are working on introducing a new version called "Robinhood Gold", that more or less resolves the rest of these.
Keep an eye on this company. Sooner or later they will be public. 
So why am I making this big deal about another brokerage, when I work with this one? Because they are disruptive. There have been free brokerage services in the past, but they didn't work out. You might remember a service called Zecco, which is now part of TradeKing. Free trades ultimately didn't work out for them, and they charge $4.95 now. Bank of America (BAC) and Wells Fargo (WFC) also have services that offer free trades if you have accounts or mortgages there with $25,000 or more. Not everyone has that kind of scratch to get started though, so Robinhood brought a lot of new investors to the market who might not have ever tried it otherwise.
Robinhood explained in the past that the reason they were able to offer free trades was that they received kickbacks from the market makers that they helped add liquidity to. What they are introducing is a subscription service. They will charge $10 a month to bring in the ability to trade after hours, and use margin (borrowed money) in your accounts. I don't have the details on the interest rates they will charge for margin yet. If they keep rates low, they could end up going up against huge brokerages like Interactive Brokers, who are able to charge very low fees, but also requires a lot of capital to get started.
I don't know if these features will be enough to bring professional traders over from more sophisticated brokers, or even how many current users will convert. I am still not able to purchase the shares of ADRs "American Depository Receipts", which would mean the stock of foreign companies like Nintendo (NTDOY). If they get that, it's going to be very hard to say no. Plus you can switch right over from playing "Pokemon Go" and do everything you need from the same device.
If you need a good, low priced place to trade stock options, I still think Just2Trade, at $2.50 per trade and only 50 cents per contract is one of the best deals out there, and I use and recommend them. 
I am long the stock of both Wells Fargo, and Bank of America, but not for any reasons related to their brokerage services. I own them because they will be on the receiving end of increased profitability on mortgages when interest rates rise. Capital One is also a sound investment for their consumer credit and automotive services.
Follow me for updates on all of these companies.
I have a lot of new content planned related to financial services in the months to come, and I frequently post articles about video game news as well. With the Nintendo NX on the horizon, there are good reasons to be excited about their depressed share price. I am long their shares too.