Here's A Convenient Dividend ETF For New Investors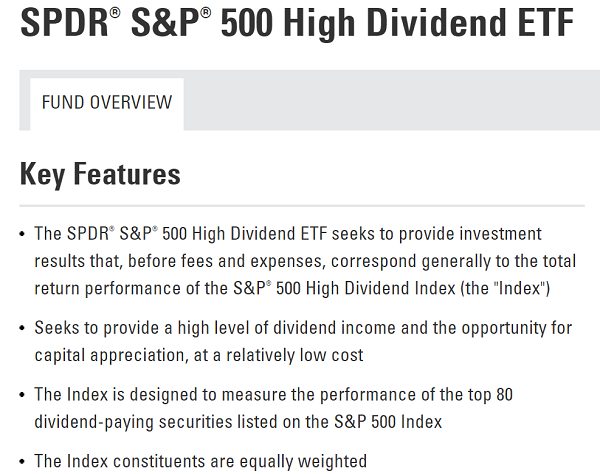 It's not a coincidence I talk about low priced stocks a lot.
My coworkers know that I'm into talking about investments, and some of the smarter ones have gotten into a bit of a ritual with me. Every Thursday morning, we go outside to sit on the patio during our break, whip out our smartphones, and place trades using the Robinhood app. Every week, the same amount goes into the account. Of course, the free trades are a fantastic benefit, but there is also the downside that you have to purchase whole shares.
I have an advantage having been doing this so long, which is that I already have additional income to buy whatever I want, but when we're adding new money to the account, it's usually not more than $35, because eh, budgets. Most of the stocks I've talked about in the past here are companies I'm actually out there buying, such as Synchrony Financial (SYF), Viacom (VIA), Teva (TEVA), Mattel (MAT) and Navios Maritime Acquisitions (NNA).
Under $35 seems to be the sweet spot for most budgets.
I'm making some assumptions here of course; but unless you've got a high-paying job, I know it can be pretty hard to scrape up that much to invest, especially when you know in the back of your mind that you could potentially see a drop in the price of the stocks you're buying. Volatility is like water of a duck's back with me, but I can see it having a very frustrating effect to people who haven't been through it this many times.
I also like to shop on the bottom shelf because I know that the dividend yields are above average. Unfortunately, there are a whole lot of companies priced down here that are extremely volatile, and I have been forced to hold onto a falling knife on numerous occasions. Two of the companies I mentioned above were forced to cut dividends this year, making what I'm sure will be a great value into a temporary value trap.
State Street Global Advisors has a solution.
Here is the SPDR® S&P® 500 High Dividend ETF (SPYD). An index fund focusing on stocks with above average yields. Now you have a fund near the sweet spot in price, with a little less of that volatility that makes you lose sleep at night.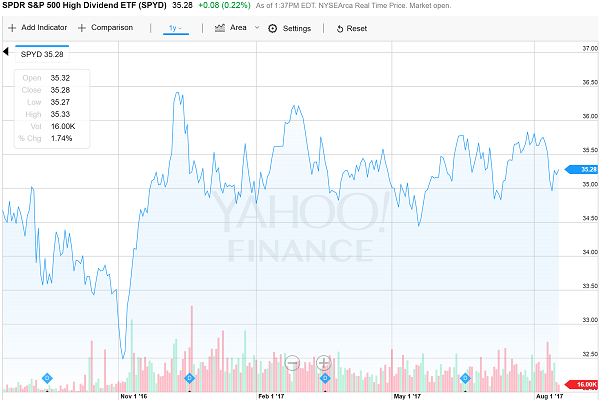 Some good things to like here.
The fund charges a gross fee of just 0.12%. The current price will catch you a very pleasing 4% annualized dividend yield. Buying a share gets you a little bit of more than 80 companies. Here are the top holdings:
Verizon Communications Inc. (VZ) 1.40 %

Iron Mountain Inc. (IRM) 1.35 %

AT&T Inc. (T) 1.33 %

Ameren Corporation (AEE) 1.33 %

Apartment Investment and Management Company Class A (AIV) 1.33 %

Chevron Corporation (CVX) 1.33 %

General Mills Inc. (GIS) 1.33 %

H&R Block Inc. (HRB) 1.33 %

Public Service Enterprise Group Inc (PEG) 1.33 %

Xerox Corporation (XRX) 1.33 %
What you're going to sacrifice in this index are the growth companies. So there's no Apple (AAPL) or Nvidea (NVDA), and you won't find a big speculative name like Tesla (TSLA). Most of the companies in there are large, mature, steady dividend payers. You shouldn't expect to get rich overnight, but on the days that the market is choppy, you won't take the kind of hits that your individual stocks might. Since the holdings are (mostly) equally weighted, you'll have less volatility and more even growth in your portfolio, automatically buying low and selling high with just a single purchase.
So, if your portfolio is suffering from extreme bouts of manic depression, maybe consider accumulating some of this ETF as a cure.