Well, Here Is The NX. The Nintendo Switch.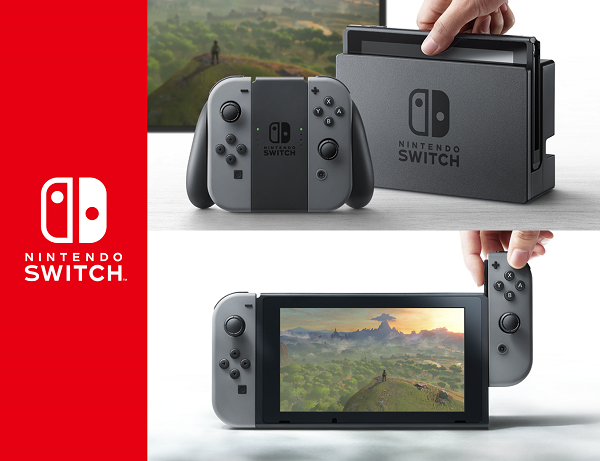 Nintendo (NTDOY) officially revealed the commercial name for their formerly codenamed "NX". Looks like they're going with the Nintendo Switch. Maybe that's what they hope people who own a Sony (SNE) Playstation 4, a Microsoft (MSFT) Xbox One, or a PC will do. Hah.
I'm not sure why, but the announcement feels a little anti-climactic somehow. Partially because the design of the thing was more or less completely given away 3 months ago, and partially because I'm not seeing any tech here that's especially noteworthy. It certainly isn't a U-Shape, and I guess they just completely ditched the idea of virtual buttons. Basically a competent packaging of a tablet. No partnerships announced with Apple (AAPL) or Android (GOOG), (GOOGL) yet though. 
There are a couple of things that are jumping out at me so I'll address those.
The first has nothing to do with the actual hardware, but rather the coloring of the unit: Gunmetal Grey. It immediately reminds me of the first generation Playstation, and that might have been exactly the userbase Nintendo is going after with this machine. Undoubtedly, we will see other color schemes closer to the launch. 
The second is, where are the batteries located in this unit? There has to be at least one in the tablet. Being that the controllers are wireless, there should be another two in there, and probably a fourth in the controller cradle, because it also appears to be wireless. The weakest link is going to be battery life here, and the controllers probably can't keep up with the lifetime on the tablet.
All those rumors about morphing, touch-sensitive controls appear to be a thing that just never happened. Nice smokescreen, Nintendo. But it looks like we do get controllers that can be held in a different way, so expect that function to make playing some of Nintendo's mobile games when played on the unit more enjoyable.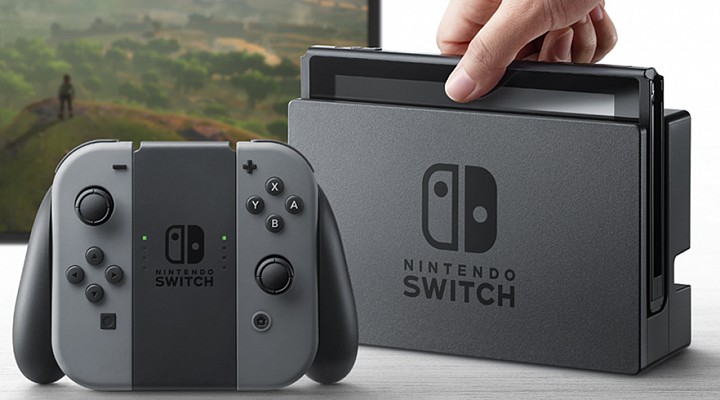 Looking closer at the base, I'm also seeing that this is, as far as a tablet goes anyway, a pretty thick unit. A power brick doesn't need to be that large, and so far, they only function we know for sure that it does is broadcast the signal out to your HDTV, so what I'm guessing is there's a hard drive in there.
I would speculate at this point that it's going to be possible to remotely access it, and stream your entire games library to you. Speculating hasn't worked out very well for me with regards to this machine though. So the rest is wait and see.
So what was up with the delayed announcement?
The launch lineup looks like it will be the strongest in a good number of generations of Nintendo consoles, but they could have mocked up those game videos ages ago. In my opinion, the reason for the delay is that the NX, erm, excuse me, the Switch, is not going to be backwards compatible with 3DS software after all. People who have seen the unit up close confirm that the cartridge profiles are different, and has less pins. The delay was most likely to allow the recently released "Galaxy" 3DS to pick up some new product sales, and consequently, more Pokemon Sun and Moon sales, too. 
I don't know what this means for the future of the DS line. It could be done if people just want to take their Switch everywhere instead. Or maybe they'll emulate compatibility, who knows.
Another possible reason for the delay: 
The "Me Too" effect that has plagued Nintendo since the release of the original Wii. Well actually, I could probably say it's always plagued them. What I mean by that is every game console that's been post-NES has done everything it could to have Nintendo-like qualities; i.e., the Super-NES button layout, the analog stick on the N64, motion controllers on the Wii, you know what I'm talking about. I think Nintendo is probably sitting on some interesting details about the docking station, but if not, this unit wouldn't be difficult for a competitor to duplicate. Nothing in these photos is screaming next-gen at me, and that has me concerned about it's usable lifespan. 
Staying long Nintendo shares for the time being.
Upcoming earnings should start to reflect the profits from Pokemon Go, so they should be interesting. Let's see just how much steam is in those mobile sails after all.