Do You Know What The Little Chip In Your Credit Card Does?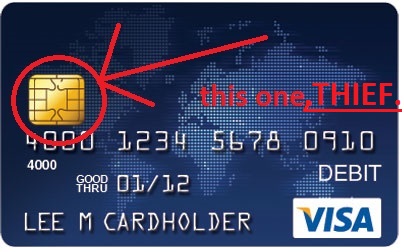 If you have received a new credit card recently from Mastercard (MA), Visa (V), Discover (DFS), or American Express (AXP), or any of the phethora of financial services that issue these cards, such General Electric's (GE) recently spun-off Synchrony Financial (SYF), you may have noticed something has changed from the last card they sent you. A little fancy gold square. That's a microchip called an "EMV", which stands for "Europe, Mastercard, and Visa", the groups that helped create it. 
If you read the information that the credit card companies sent along with the EMV chip, you'll see that it provides an extra layer of authentication along with the magnetic strip that transmits data on your card. They sell this benefit as a way of protecting you against fraudulent charges, and it is; but what is really happening here is that the credit card companies have found a way to crack down on fraud by both identity thieves and the cardholders themselves. The reality of these chips is that it helps protect the card companies from paying out on false claims.
To be clear, nobody is accusing you of being a thief, but sometimes we forget about things we bought, or we spent so much on a night out that we just can't believe it was our own hand that swiped the card. So we would normally call in and dispute the charges. The EMV chip, when activated by the vendor, forces us to insert the card into a second slot to authenticate the chip and prove that the card was present. Some of these terminals may or may not ask you to set a PIN. 
The bottom line is that the credit card companies can now prove that the card (and probably you) were the one making the purchases, instead of just some person who stole your credit card numbers. Additionally, retailers who choose not to add the readers that authenticate this extra layer might be forced to accept the liability when a fraudulent claim is made. It's brilliant, and it should be good for the bottom line of all of these card companies. 
Mastercard closed down 87 cents to $98.50, Visa closed down 32 cents to $79.79, Discover Financial Services closed down 10 cents to $56.81, and American Express closed down 61 cents to $71.63. Synchrony closed down 21 cents to $31.34.
Oh, and by the way; pay off your credit cards ASAP. Once interest rates go up you will be one sorry sap if your revolving credit line goes into the double digits.