Google Seeing Competition In Gigabit Internet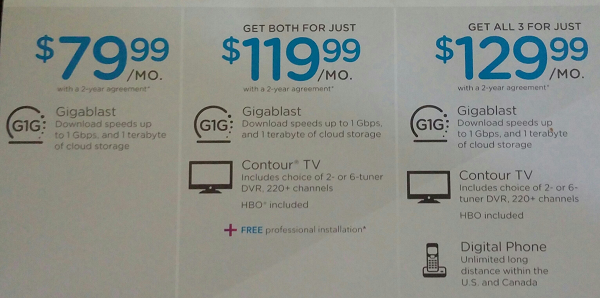 The race is on for internet superiority now. I received the above advertisement from Cox Communications today. This is only a little more than we pay right now for our high speed internet, so I'm certain that these plans will be widely accepted. Which means that, at least for now, Alphabet (GOOG), (GOOGL) and their Google Fiber will not be able to penetrate the Phoenix, AZ market without competition.
Cox communications is unfortunately privately held, or I would love to plant some investment money with them. That said, even if they aren't able to control the toll bridge themself, Alphabet is still a fantastic company to be a shareholder in. At 32 times trailing earnings and no dividend, that's a little bit rich for a value investor, but at the same time, Google's advertising business has shown no signs of slowing down. For that reason, I rate Alphabet a buy.