Consumer Debt And Credit Companies - The Eye Of The Storm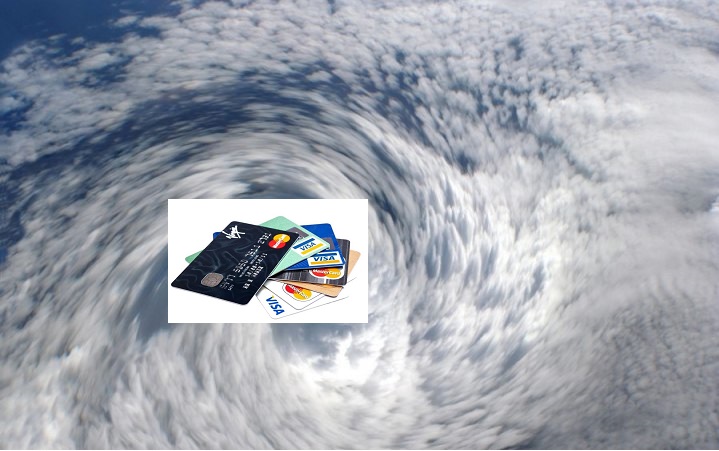 As investors, we're always trying to think about what the "next big thing" will be. Sometimes it's not hard to guess if you just consider the consequences of supply and demand. Several sources have reported that consumer debt levels have hit a record high this year. So that means there is demand for consumer credit. That means someone can make some profits if they are willing to supply it.
There are two considerations in this transaction.
So you have your consumer credit companies, I'm sure most of you are familiar with the big ones like Visa (V), Mastercard (MA), American Express (AXP), and Discover (DFS). Additional companies that are attractive in an environment like this are Synchrony Financial (SYF), a former part of the finance arm of General Electric (GE), who issues store credit cards, and Santander Consumer (SC), who finances automobile loans.
In addition to what was already happening, the massive damage caused by two major hurricanes this season will mean lots of people will need to buy new furniture, electronics, and numerous other household goods.
Don't stop there though.
What you want to start thinking outside the box is about companies that supply services to these companies themselves. That makes the current situation with Equifax (EFX) very interesting. I mentioned in my last article that they are the type of company that has a competitive moat. There are only 3 companies that track consumer credit scores, the other two are Experian (EXPGF), and TransUnion (TRU). These companies essentially control the drawbridge on that moat.
The fiasco involving stolen account data at Equifax is likely to cause them some financial losses, at least in the short term, but eventually, these problems will get worked out. We've had data breaches at other huge companies, and the damage passed over the course of just a few quarters. Right now Equifax is selling at what amounts to a 25% discount on a price/earnings basis over their American peer, and you get a small dividend on top of that.
Bank on the future occurring.
There's this weird thing that the market does with alarming frequency; it discounts stocks to the point that you'd believe said companies have no future whatsoever, but history has shown repeatedly that this is virtually never true. For all the fear out there, less than 1% of publicly traded companies go bankrupt, and there's no reason to think that will happen to Equifax. They'll simply upgrade their security software and systems, reassure their customers that everything is great, and then we'll all go on with our spendthrift lifestyles.
ACTION TO TAKE:
Equifax is looking like one of the best deals in this bunch, but I would say consider buying a stake in every company I mentioned in this article, including GE. They still have finance operations, and they're still one of the largest conglomerates in the world. The other stocks are just a matter of supply reaching their intended demand.
Become a follower, I plan to followup this article with the companies that stand to benefit from the mortgage debt and repair costs that will be accumulated as a result of the hurricanes.