Why I Haven't Shopped On Black Friday In Years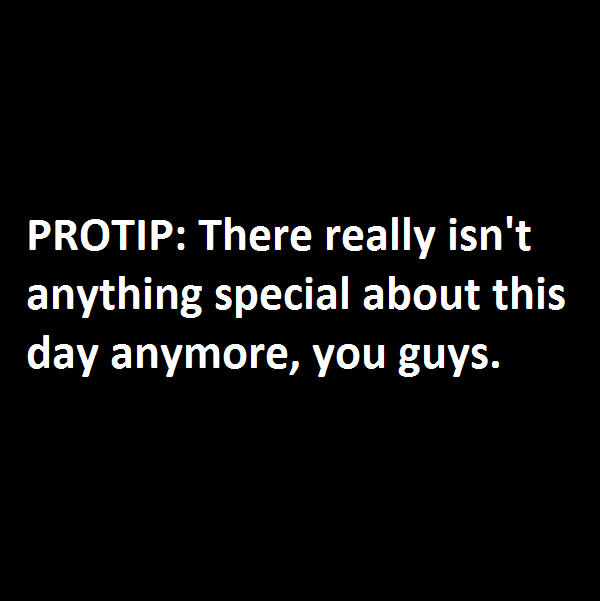 Ok, I'm being a little silly with that. 
But in all seriousness, there are some things we've gotten ourselves into the habit of doing over the years that really don't make a lot of sense. Things like:
Getting up at 3am the morning after eating an enormous meal, and probably after putting a few drinks down if you're like most people I know.
Running out on Thanksgiving morning to get a Sunday-sized newspaper full of ads for pretty much the exact same things at different stores.
Dividing up the family, sending each of them to a different store in the hopes of getting a "doorbuster", when there's literally like 1 of them on hand for that special.
Being at all surprised that there are outbreaks of violence at these things with all of this considered. 
You have the internet now. Stop the madness.
Clark Howard was actually my latest inspiration to post today. I subscribe to his emails, but lately I feel like he's sort of lost focus on what made him great: Saving money. 
What Black Friday was actually supposed to be, and how it's changed (for the worse). 
We all know that story about how retailers run red ink up to this day. It's not true by the way, or at least not any with any intelligence. When I was younger, maybe oh.. let's say 20 years ago? It was kind of this cool thing to go through the ads for Fry's Electronics and get a motherboard and CPU combo that was being cleared off the floor. That's how BF initially started, was you were clearing out inventory of the stuff people basically didn't want. But you had to accept that the good would probably be less than perfect, and you probably had to put some work into making it pay off for yourself. 
In the age of throw-away electronics, that business model no longer makes sense.
If you are the type that collects those ads as we get closer to the day, start thinking about this critically. The difference in pricing has closed tremendously, and they know that you're wired up now. The stores don't need the liability of personal injuries, and brick and mortar just aren't drawing the same crowds now that Amazon (AMZN) has turned everything into a mail order economy. Free shipping isn't what it used to be either, now that you gotta pay sales tax.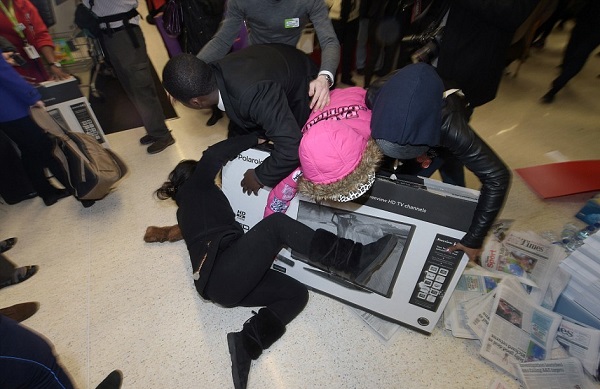 Pictured above: People who didn't know this was probably online for $10 less.
So take your Walmart (WMT) ad, your Target (TGT) ad, your Best Buy (BBY) ad, and you can pretty much just burn them unless you are looking for a good deal on some Blu-rays or something, because that bundle deal you got on a Sony (SNY) Playstation 4 or Microsoft (MSFT) Xbox One is probably going to be price-matched by every one of these guys. Virtually any other thing you see in these ads probably will be too. In addition to that, it's probably on sale somewhere online that you never thought about.
All that said, one electronics retailer you might be surprised to see some good deals at is Office Depot (ODP). They have been the place to shop for hard drives the last few years for some reason. But they carry all kinds of mobile goods now and will probably have a few good deals without the lines.
If you do see something that's a "must buy", take a moment to see who really makes it. 
A lot of low-margin goods out there are now made by the same companies out of China. It's cheaper to source the parts from one place and then have it assembled in your host country than it is to start up your own business. Some of those companies sell direct to the public, like TCL for example. The same parts in that Samsung HDTV you're drooling over might be available through a different vendor for hundreds less if you're willing to part with that brand sticker. Run the model number through Google (GOOG), (GOOGL) and see what you can find out. 
Here are a couple of sites to watch for the best online deals at:
1. Cheap Ass Gamer. They always get lists of the Black Friday game bundles and post them ahead of time by brand in their forums. 
2. Slick Deals. This site is great pretty much every day of the year for comparison shopping. Any time I want to order anything I check for it there first. 
At any rate, I don't have a lot of motivation to go out in the cold to save a few bucks when I can just reserve all this stuff online and then go pick it up later in the month. Everything you can get in the store is going to be online for the same price or better. A lot of these retailers are opening up sales as much as a week early. Toys R Us was running the same deals 24 hours a day last year. Unless you've got somebody with a birthday or something that week, what is the rush?