NATIONWIDE RE-LAUNCH OF CRYSTAL PEPSI IS IMMINENT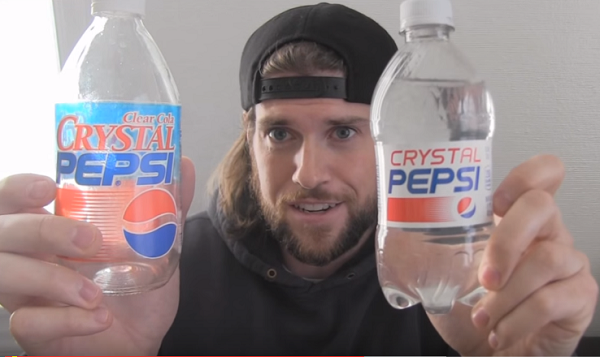 Pictured above: L.A. Beast holding the 90's original on the left, and the new packaging for Crystal Pepsi.
Reports are coming in from retailers that PepsiCo (PEP) is preparing a nationwide re-launch of the famously failed "Crstal Pepsi", a colorless version of the flagship drink originally released in the early 1990s. There was a limited re-launch in Canada for Christmas last year, and the product appears to have been well received, so Pepsi's going to give it another go. 
If you were a kid in the 90's (I was in high school), then you will remember having enjoyed this product. The formulation was slightly different, I recall it being slightly sweeter, and less cola-like. If I have some readers here who have had the chance to try the reformulated version I'd love to hear fro you. 
But comments coming directly from vendors and retail employees, as seen on the Facebook page "Bring Back Crytsal Pepsi" are confirming that a nationwide re-launch is planned for this summer of 2016, likely around July or August.
Go buy your PepsiCo shares now, nostalgia demand for this product will be HUGE.
Your move, Coca-Cola (KO).