The Pandora's Box Of Nintendo: Hackers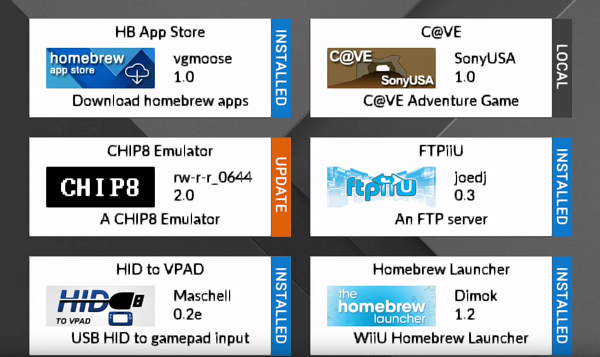 My apologies for the lack of updates over the last week. My shoulder was injured and it hurt too much to write. I am doing physical therapy and the doctor believes I should be fully recovered after a month. We'll see. In the meantime, there are stocks that need to be talked about. Let's get to it:
So, in case this might be news to you, the Nintendo (NTDOY) Wii U has been exploited and hacked for several months now. The selection of homebrew apps available is somewhat unusable for the majority of the public, as it requires a bit of computer savvy to understand what you are doing. However, the applications that are out there are becoming more complex, and it looks like we will be seeing functional things like emulators for classic systems, and easy to use game copying software shortly. 
The 3DS has been hacked in similar ways as well. It's been since at least March from when Nintendo knew this was happening, and (somewhat) useable hacks have been available to the public since May, so there are a couple of things that you can infer from Nintendo's lack of action on the matter:
They thought that the hacks would not get to a sophisticated level, or
They view these exploits as a potential system seller.
It's been widely reported that the new "Legend of Zelda: Breath of the Wind" was a hot property at E3. But that hotness comes with a double-edged sword, which is that the Wii U user base is not very large. Now they could have just thrown in the towel and moved on to that new NX console, but they decided to release a version for Wii U, too. But I wouldn't expect Nintendo to just release a megahot title onto a console that's full of exploits, so I think that's why they're staying quiet on the matter. 
Nintendo frequently packs software that checks the system version with it's games, so if they are unable to catch these exploits with Zelda, odds are good that they just can't do anything about them. Either way, it's hard to know if this is a strategy that will win new users, or alienate the hackers. It could be a mix of both. 
At either rate, I remain long Nintendo, even after a pullback from nearly a 300% gain from first recommending them. To me the stock is a long-term keeper, and I think I'm going to take advantage of the pullback to add more. 
And yes, for the record, my Nintendo Wii's (both generations) are hacked as heck. No, I'm not going to help you do it to yours, sorry.