How Much Do Political Events Really Affect Markets?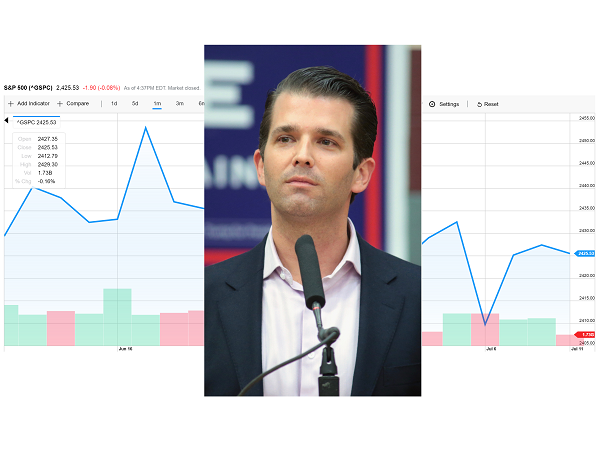 The chart looks bearish, but I captured it that way on purpose.
From the high set over the last month on June 19th, it seems as if the chart has been in a state of decline, but that's your brain playing tricks on you, getting you to see patterns that aren't really there. Truth is that high of 2453 set by the S&P 500 (SPY, VOO) is only about a 1% difference from today's closing at just 2425.
While the news of President Donald Trump's son, Donald Trump Jr. being caught essentially red handed that Russia was indeed involved in tampering with the 2016 presidential elections has certainly had more than it's share of airtime today, and maybe you're looking at your shares of General Electric (GE) or El Pollo Loco (LOCO) being down and thinking that this is somehow tied, that couldn't be further from the truth.
At least, in the longer term. You shouldn't invest at all if the short term is all that matters to you.
The only thing that has always mattered to people who buy and sell stocks is earnings. A stock price can rise sharply on anticipation (See Tesla (TSLA)), but when the reality of another quarterly loss adds up, those losses makes smart money move on. Actually, smart money doesn't tend to be there in the first place, so it's probably more true to say that it makes.. less experienced investors jittery.
So is this Trump Jr. news bad for the markets?
If you believe that the current bull market is riding on his dad's shoulders as president, it could potentially do a bit of temporary harm to the indexes. However, 200+ years of history tells us that this too, shall pass. Opportunities for local government projects and other infrastructure will come and go, but that has less to do with who is president, and more with the need for people to get from place to place
ACTION TO TAKE:

I'm buying GE, LOCO, and Viacom (VIAB) this week with a solid belief that people will continue to watch television and eat fast food. That in turn should cause a need to see their doctor, who will use the latest medical equipment from GE to diagnose their problems. I will probably never buy Tesla stock.
Also, read my entry about El Pollo Loco here.