Sentiment Changes Quickly, Doesn't It? Sorry, StockTwits.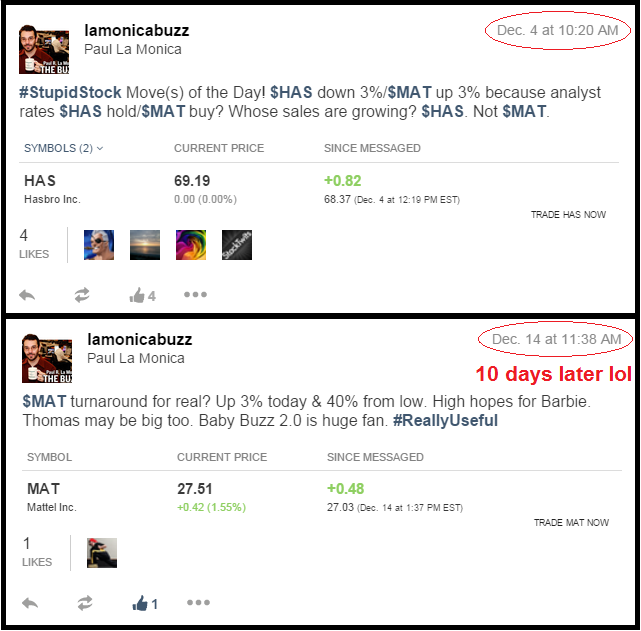 Well that escalated quickly.
I'm not singling out Paul or StockTwits here. This wouldn't be the first time I've seen this kind of thing, and I know it won't be the last. And I probably shouldn't talk too much smack about StockTwits, because we advertise there.
What I would like to do is use this example to show why following the wisdom of crowds, and market sentiment alone is a mistake. This is a very good reason for you, the investors to put time into understanding what drives these kind of reversals of fortune, and when the majority of people seem to be down on a company, to aggressively bet against them. 
Since I've already published about a bazillion pieces on the fundamentals of the Mattel Corp (MAT), I'll refrain from recovering that ground. What I will tell you about is the virtue of dollar cost averaging in the presence of companies with durable competitive advantages. 
First things first I'm the realest. 
I don't ever base a buy decision on a single year, and most definitely wouldn't get excited about a single good/bad quarter. I need to see at least 3 years, and prefer to have 10 years of financial data whenever available. I want to understand who my company competes against, and I want to understand how well they have held their ground against their best competitor. If you pulled up the last 10 years of financial data comparing Mattel and Hasbro (HAS), you would see that Mattel has outsold them by a larger margin every single year. Even last year, when everyone still hated Mattel they still outsold Hasbro.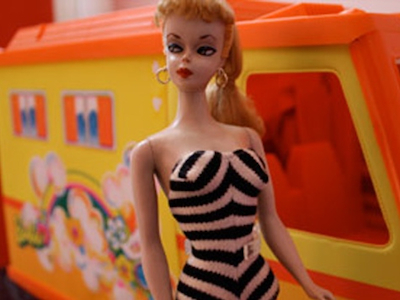 Barbie is the #1 selling toy of all time. 
See here: https://www.nowblitz.com/blog/15-best-selling-toys-in-history/
I bet you thought it was something Disney (DIS) makes, huh.. Don't go placing bets on the competition just because "Frozen" is big that year, or "Star Wars" is big this year. Bank on what has been consistently popular for the longest amount of time. Jakks Pacific (JAKK) put a lot of weight behind another successful Frozen year. Oops. Star Wars is not going to overtake Barbie. Does that even make sense to happen in a rational world? Girls play with Barbie. Girls do not play with Star Wars. I'm sure Hasbro will indeed sell a good number of boys toys this year, but how could that harm what girls think of Barbie? 
It won't, that's how. Don't make apples to grapefruit comparisons. Compare on equal metrics.
Even if the markets had been correct about Hasbro having a great year, realize that the price of Mattel was already down by half at one point this year. Hasbro was at an all time high. You must buy low and sell high in stocks to win in the long run. And that means going against the grain of short term opinions. 40% back up is still not a reason to cash out. A 50% drop in a stock price means it needs to go up by 100% just to break even. Since I think there's an excellent chance that Mattel is going to post a 4th quarter that's better than they have in several years, I'm going to hold out for more money. I'm long for at least a $38 price target, and if sentiment wants to fight against me, so be it. I will just acquire more until that balance is restored. 
If you can't spot a clear winner in the accounting statements, then rely on dividend equality.
It has been universally true that all else equal, investors will pay more for stocks with higher dividend yields. Today Mattel yields 5.62%. Hasbro yields 2.66%. The halfway point is 4.14%, so hold for at least that balance, with the assumption that Mattel is a better company. Mattel shares would need to hit at least $35 for that equilibrium. Assume that momentum will carry them slightly higher than that for good measure, and you have a setup for a winning trade. I'll see you at $38.